OUR PORTFOLIO
Maju Hias prides itself on delivering reliable and professional service to its customers. Established in 1987, Maju Hias's services include providing make-to-order curtains, bedspreads, upholstery of sofas and dining chairs and many more.
Our breadth of clients include homeowners, expatriates and even commercial clients. We are able to provide customized soft furnishing solutions that suit every need, budget and taste.
We also have other services provided by our other division, Syarikat Perkhidmatan Maju such as on-site or collection & delivery for shampooing of carpets, sofa and mattresses, as well as routine pest control services and fogging.

Our portfolio of past works can be viewed below:
Curtains
(click picture to enlarge)
Bedspreads

(click picture to enlarge)
Tablecloth & Skirting

(click picture to enlarge)
Upholstery of sofa & dining chairs

(click picture to enlarge)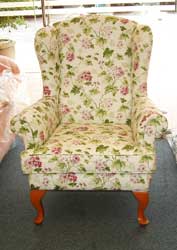 Blinds
(click picture to enlarge)
_________________________________________________________________
On-site carpet shampooing at a commercial office